Almost too tired to type, yet I ain't been this keyed up in long while, baby...it's all Davila 666's fault...& that's a good thing.

Just a-chuggin' along on their "Latin Lingo for Rats & Gringos" tour, after much wheelin' and dealin', the Davila boys squeezed good ol' Cola-town into their travels...& I'd like to imagine it was win-win, nuclear-devastation-style fun had by all!

What started as certainly a tame scene, even with rockin' sounds provided by locals, the Thirsties
was only to erupt into near-riot garagepunk chaos & great shakes with just the very first tune blasted out by Davila 666...all of this ace music unchecked by what could be a language barrier (Davila 666 is from Puerto Rico and sing their songs in Spanish to boot) proves that real rock'n'roll still communicates...& the message?: "Let's have some goddamn fun!"
...I wish I could elaborate on the nuances of their killer performance...six crazed mofos jangle-punkin' their way thru hooky song after harmonic song...how do ya describe a great party with justice? They have two damn tambourines goin' all nuts in the middle of the trad-garagepunk stew, fer fuck sake! My kinda sound, kids! So course I was up front in full tilt garagepunk-get-down mode and fun was overflowin' into the audience...
(One of the proudest moments was after the show, when multiple members of the band complimented to me on the crowd at the Whig fer dancin', not standin', as Davila 666 was accustomed to from other American audiences...that's right, Cola-town comes to party & shake all nite...take that, well, every-fuckin'-where else!) ...It was even Sir Charles' birthday too, so the dranks never ran dry and the wildness only got wilder...got to hear all my fav tunes (with the minor disappointment of no "Bla Bla Bla"...then again, I was alwfully plastered and splattered by mid-show, let's not forget)...along side a handful o' covers (sung oddly in English)...
I have to admit the Black Lips comparisons make sense but no-shit-show, it's Black Lips à la Live at the Jam Club-style, though many of Davila 666's recordin's fall close to the 200 Million Thousand-stripe...& really that ain't fair to Davila 666, cuz thru what could be aped American punk sounds and sights, they channel it all blown out thru their Caribbean-cultured lense...& that's what is magical about this groop...garagepunk just ever so slightly off-center and bright...beautiful, baby

Here goes some frenzed photos: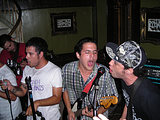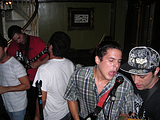 My girlfriend was even cool enuf to let the whole gang after-party (grillin' burgers at 5:30 in the mornin'...that's how's done, real right) & crash out at her pad...




Do I really need to say, "catch 'em if ya can"? ...only 7 mo' weeks of their US tour...gonna never forgive yerself if ya miss this one, kids!