So, I'm havin' that "what'd I say?" scalp-scratchin' feelin', baby and it got me to shakin' over to this groovy spec o' trash by an otherwise pop act...in my confusion and to maybe help clear up yers, let's dig the Five Americans and their gutsy jab at the Ray Charles blasteroo...

WHAT'D I SAY!?!

This bute hails off their '66 LP, I See the Light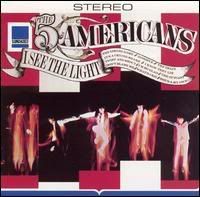 It's a rhythm rampage and organ work-out of a tune...and does it ever sum it up nicely...

"...thee end."

Dig more of the Five Americans from Texas on the re-release of I See the Light on Sundazed Records, kids...ahhh, who the hell cares what I say, let's par-tay!