What are the odds: Two GaragePunk shows at the Whig in a week?!?
First was Davila 666 (read all about it here), but not to be out-frenzied or forgotten, thee Fine Lines showed up to do the Whig right & up tight with plenty of Sunday nite shakes...

Once we sauntered down the stairs to the depths of Cola-town's hot spot, it smelled of the foul fun had just days earlier...but my garage gland was givin' off the real reek once I noticed that the groop of gentlemen scarfin' pizza were the 'Lines in the flesh...
So yes, I admit, I'm a fuckin' fanboy fer this raunch & racket...and with the G.C.S.P.S. gang providin' a pleasant trashy music backdrop, I plopped down and commenced with talkin' shop...garagepunk prattle at max spazz...Jason Fine Line, being the unfortunate soul closest to me, got the real brunt of my babble...tho over the course of the nite they all humored me...just nice guys who happen to play some of the sweaty sounds....this is dance music, kids!

Once again up front is the place to be...thee Fine Lines lay it out, baby...Before the show I got to squeeze in a few requests and even tho the band hadn't rehearsed any of 'em lately, they just wailed on 'em...Best part to me was at kick-off when durin' "sound check" they performed my fav rave tune, "Got to Get Out of This Town"...and this manic masterpiece just set the tone at full tilt, the way I always want it--wild: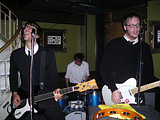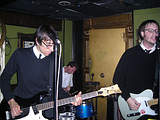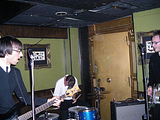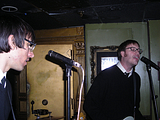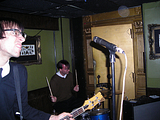 Folks who label the 'Lines as a throw-back groop ain't seen and heard the frenzy live and that's a fuckin' shame, cuz they come to roll ya over...too pop fer punk, too savage fer sixties rock.
...They shook it out and gave a stunnin' encore fer the ragged audience, makin' sure the rocks got out! ...Capped the nite right with a congratulatory round o' shots and an open invite to come back whenever...now that's a garagepunk show!

UPDATE: How the fuck could I forget that I threw my fuckin' back out from this show?!? ...3 days later, still achy, baby ....no can say I don't get down to the garagepunk sound....